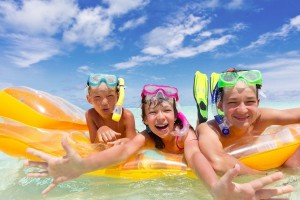 Some families appreciate an extra pair of hands when they go away on holiday. And it often makes sense to take along your nanny who knows the children well rather than hire in help at the destination.
It's worth remembering that while it might be a holiday for you, it's not a holiday for your nanny. Going away with a family is often harder work for a nanny than being at home. The children will be out of routine and your nanny probably won't be used to having you around, either.
Top tips
So it makes sense to agree how you plan to run things on holiday before you even set off for the airport. Here's 10 tips to guarantee trouble-free travel.
Before you even book the flight, think carefully about whether you'd be comfortable having your nanny around you and your family all day every day. You might find it intrusive.
Don't forget to include your nanny on the policy when you book your travel insurance.
Unless you have a holiday clause in your nanny's contract, consider setting down your expectations, in writing, as a separate holiday contract. This will avoid problems cropping up while you're away.
Don't expect your nanny to be 'on call' when you're on holiday. Set out the hours you want your nanny to work. If she or he will be working longer hours than at home then you should pay overtime. And agree the rate before you go.
Remember that travel may be outside of the normal working hours so you may have to pay overtime for the journey, especially if your nanny has to look after the children while you're travelling.
Unless your nanny sleeps with the children at home it's best to give him or her their own room so they have some privacy.
If you expect your nanny to work weekends when you're away, but not at home, then you'll need to pay overtime at the agreed rate.
Agree some time off in advance and consider giving your nanny spending money so that he or she can go for a meal out and get a cab back to the hotel.
What and where will your nanny eat? Would you like your nanny to join you for family meals? If so, how often? Before you make a decision think carefully about your own privacy.
If you expect your nanny to do washing or washing-up while you're on holiday then let him or her know beforehand. And pay overtime for any chores carried out outside of normal working hours.
Happy holidays